Computer Classes

SIGN UP TODAY FOR FREE COMPUTER CLASSES AT THE LIBRARY AND ON ZOOM!



Let us assist you with learning how to use a computer! Our In-Person Classes are FREE and will take place in the Library. Our Virtual Classes are FREE and will take place on Zoom.
The maximum capacity for each class is 3 people.
Basics of Excel 2019
In-Person Class at the Library
Tuesday, June 22nd at 5:30pm
Learn the basics of setting up a spreadsheet in Excel. Please sign up online for this In-Person class here!

**Virtual and In-Person Computer Classes may be Canceled or Postponed, due to these unprecedented times. If a scheduled class is Canceled/Postponed, the library will contact you to inform you of the changes.**
Computer Class Usage & Other Computer Information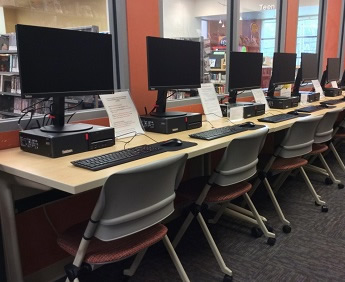 - Library Patrons

MUST HAVE A LIBRARY CARD

, that is in good standing, to access one of our public computers. Patrons will need to type in their library card's barcode number to log onto the computer.

- All 12 patron computers run the Windows 10 operating system. Each computer is equipped with a DVD-Rom drive, a 3.5 mm audio-out port for headphones, and multiple USB Ports for flash drives and other storage devices.
- Headphones are available at the front desk. Patrons need to have a library card to borrow headphones.
- During an active session, the library computer will AUTOMATICALLY RESTART itself if a patron leaves it idle for 5 minutes.