Computer Classes

SIGN UP TODAY FOR FREE VIRTUAL COMPUTER CLASSES ON ZOOM!


South Park Township Library's

FREE

computer classes have gone virtual
and will take place on Zoom.

Social Networking: Facebook
Thursday, August 13th at 10:00am
Online Registration for these computer classes is required! Download Zoom to your computer at https://zoom.us/download or via your mobile device's app store.

The Library staff will e-mail patrons that sign up for these classes a copy of the class handout. Patrons will also receive information on how to log in to the Zoom Meeting. The max capacity for each class is 3 people.



**

Virtual Computer Classes may be

Canceled or Postponed

due to these unprecedented times. If a scheduled class is

Canceled/Postponed

, the library will contact you to inform you of the changes.

**










SIGN UP TODAY FOR OUR TECH TUESDAYS 1-ON-1 COMPUTER SESSIONS



Tuesdays, August 11th, August 18th, and August 25th
Let us assist you with any computer issues that you might need help with including creating an email account, searching the Internet, borrowing e-Books/audiobooks from the Library via Overdrive, and more.
Our Tech Tuesdays service is a 1-on-1 session by appointment only and will take place via phone or Zoom. Each session is scheduled for half-hour blocks.

When scheduling an appointment, please inform the staff what you would like to discuss regarding your computer or tablet and if you would like to attend the meeting via Zoom or by phone. If a patron chooses to attend the appointment via Zoom, the Library staff will send out information on how to log in to the Zoom Meeting.

If you have signed up for a particular time and need to cancel, please let the Library staff know as soon as possible.

Computer Class Usage & Other Computer Information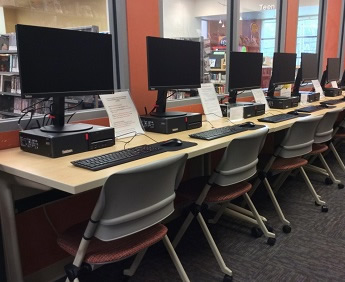 - Library Patrons

MUST HAVE A LIBRARY CARD

, that is in good standing, to access one of our public computers. Patrons will need to type in their library card's barcode number to log onto the computer.

- All 13 library computers run the Windows 10 operating system. Each computer is equipped with a DVD-Rom drive, a 3.5 mm audio-out port for headphones, and multiple USB Ports for flash drives and other storage devices.
- Headphones are available at the front desk. Patrons need to have a library card to borrow headphones.
- During an active session, the library computer will AUTOMATICALLY RESTART itself if a patron leaves it idle for 5 minutes.