Computer Classes

SIGN UP TODAY FOR FREE VIRTUAL COMPUTER CLASSES ON ZOOM!


South Park Township Library's

FREE

computer classes have gone virtual
and will take place on Zoom.
Basics of Excel on Zoom
Wednesday, April 21st at 5:00pm
Learn how to create spreadsheets with Microsoft Excel. Please sign up online for this virtual computer class here.
Social Networking: Facebook on Zoom
Wednesday, April 28th at 3:00pm
Learn how Facebook works. Please sign up online for this virtual computer class here!

The Library staff will e-mail patrons that sign up for these classes a copy of the class handout. Patrons will also receive information on how to log in to the Zoom Meeting. The maximum capacity for each class is 3 people.

**Virtual Computer Classes may be Canceled or Postponed, due to these unprecedented times. If a scheduled class is Canceled/Postponed, the library will contact you to inform you of the changes.**
Computer Class Usage & Other Computer Information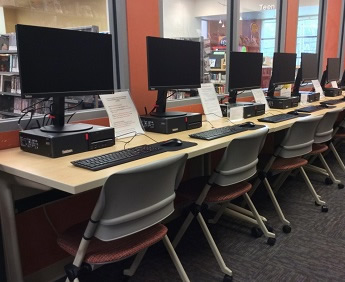 - Library Patrons

MUST HAVE A LIBRARY CARD

, that is in good standing, to access one of our public computers. Patrons will need to type in their library card's barcode number to log onto the computer.

- All 13 library computers run the Windows 10 operating system. Each computer is equipped with a DVD-Rom drive, a 3.5 mm audio-out port for headphones, and multiple USB Ports for flash drives and other storage devices.
- Headphones are available at the front desk. Patrons need to have a library card to borrow headphones.
- During an active session, the library computer will AUTOMATICALLY RESTART itself if a patron leaves it idle for 5 minutes.