Adult Programs
These library programs are designed for adults and include clubs and other events.

*Library Programming will take place either IN-PERSON or VIRTUALLY. Please view the program description below for more information. All programs are subject to change.*
Register for an Adult Subscription Bag!
16th Annual Friends of the Library Holiday Party
Thursday, December 9th at 6:00pm
Join the jolliest bunch of librarians this side of the nut house for our 16th Annual Friends of the Library Holiday Party! Inspired by the classic holiday movie, "Christmas Vacation," the Library will provide games, entertainment, and a craft for families. Please register online with our SignUp Genius link here to reserve a time slot. Please choose one slot per family. We can't wait to celebrate the holidays with you over eggnog and Aunt Bethany's famous jello mold. Feel free to wear your favorite Christmas Vacation costume!
Doors Open Pittsburgh - Obscure Pittsburgh Holiday Traditions
Virtual Program
Monday, December 6th at 7:00pm
Did you know the ball in Pittsburgh goes up instead of down? Join DOORS OPEN Pittsburgh and storyteller Chris Whitlatch as he shares the obscure holiday traditions of Pittsburgh. Sign up by going to: https://doorsopenpgh.org/virtual-tours/. Select the $5 Donation option, and use code SPL2021 at checkout to register for free!
Online Shopping
In-Person Class at the Library
Tuesday, December 7th at 5:30pm
Learn how online shopping works. We will be focusing on eBay, but we will also discuss how Amazon.com works. This class will meet in the Library. The max capacity for this class is 6 people. Please sign up online for this In-Person class here.
Paper Quilled Snowflake Ornament Craft for Adults & Teens
Monday, December 13th at 6:00pm

Join us for a paper quilling tutorial to learn how to make a snowflake ornament. Paper quilling is the art of cutting paper into long thin strips, rolling and pinching the pieces into different shapes, and then gluing the shapes together to form decorative art. We will provide all the supplies, but registration is required. Please sign up online for this In-Person program here.
Digital Picture Editing
In-Person Class at the Library
Tuesday, December 14th at 5:30pm
Learn how to save pictures to your computer. We will also examine how you can edit these pictures to make them look better. The max capacity for this class is 6 people. Please sign up online for this In-Person class here.
Holiday Cocktail Happy Hour
Virtual Program on Zoom
Thursday, December 16th at 6:30pm
Join us on Zoom for holiday cocktail tutorial. We'll show you how to make some of our favorites like the classic Hot Toddy and a modern Santa Clausmopolitan. Sit back, sip, and celebrate! Must be 21+. Please sign up online for this virtual program here.
Chocolate and Tea Pairing - Virtual Fundraiser for the Library!
Wednesday, February 9th at 6:30pm (On Zoom)
Back for another round of this popular class, we will be offering teas and chocolates from a local chocolatier that pair well together. If you've never tried this, the combination of tea and chocolate are amazing together! Treat yourself or your loved one to a night of local tea and chocolate. Know that some of the teas are NOT caffeine free. The cost is $45. If you've signed up for this tea only, payment is due Thursday, February 3rd. You will be able to pick up your bag starting Monday, February 7th - Wednesday, February 9th. 
REGISTER FOR THE FEBRUARY 9TH HOLIDAY TEA PARTY HERE!

Sign up for both the December and February teas and you will receive a bonus in both bags!
If you would like to attend both teas, you will need to register for each tea separately.  Make sure you include your email address so that we can send you a Zoom invitation! The cost for both teas is $75. What better way to support the library than sipping tea "together" on a cold winter's night!

We accept cash or a check made out to South Park Township Library for payment. Payment can be dropped off at the Library in an envelope marked for the Tea that you are attending. Payment can also be mailed to us at 2575 Brownsville Road, South Park, PA 15129.

FREE COMPUTER CLASSES!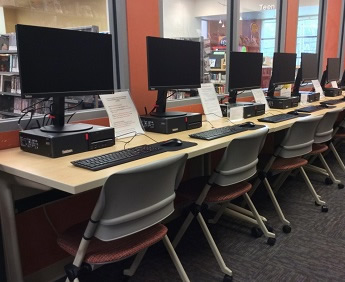 **South Park Township Library's FREE computer classes will take place at the Library. Learn more about our Computer Classes here.
INTEGRATED YOGA FOR ADULTS!
Start or continue your yoga journey with classes through South Park Library. We will integrate yoga flow with gentler hatha yoga and pose work; connecting our breath with movement to increase flexibility and strength as well as body awareness. Join us and you will soon discover a new you both on and off the mat.

For the winter, we will be offering virtual yoga classes with Tammy every Tuesday night at 7:00 pm. We ask that you pay $20 in advance. You can either mail a check, or drop off your check or cash at the Library. Please mark your envelope Tuesday Yoga and include your e-mail address so that we can make sure you get the zoom invitation. Registration for December's classes will start in late November.
GENTLE FITNESS & GENTLE YOGA FOR ADULTS!
If you would like a program designed exclusively for adults and order adults that is fun, energizing and more personal than a gym, this is exactly what you've been looking for! The Community Center will be open on Tuesdays and Thursdays from 11:00 am - 11:30 am for those who wish to exercise. New participants are required to fill out a liability waiver.
INTEGRATED YOGA
Tuesdays
from 7PM - 8PM
Virtual
$5 per class


GENTLE FITNESS
Tuesdays
from 11AM - 11:30AM
In-Person or Virtual
$3 per class

SEATED YOGA
Thursdays
from 11AM - 11:30AM

In-Person

or Virtual

$3 per class
ADULT BOOK CLUBS
Challenge yourself to read interesting and compelling novels with a great group of readers. We welcome all new members! Each book club meets in the Library.

2022 TEA & MYSTERIES BOOK SCHEDULE 2022 ADULT BOOK DISCUSSION SCHEDULE
Wednesday, January 12th
@ 1:00 PM




NO NEED TO REGISTER!

Thursday, January
20th
@ 7:00 PM
NO NEED TO REGISTER!